The Ribbons sling webbing range is designed and manufactured for the industry with safety in mind.  Flat and round sling options are available to meet all customer needs, from light to heavy industrial lifting.
Flat Webbing Slings
Flat webbing slings are constructed from polyester with an eye at each end. Flat slings are flexible, lightweight and portable whilst being strong and durable.  The flexibility of flat webbing slings offers enhanced shock absorption and its wide load-bearing capabilities make it ideal for use in applications requiring protection of the loads being lifted.
Round Tubular Slings
Our lifting sling range offers a tubular polyester which is used in the production of round slings, or endless slings, available in widths from 49mm to 300mm. Ribbons also offer twisted polyester yarn for use in the production of round slings.  Round slings are flexible yet incredibly strong, offering enhanced surface protection for loads being lifted.
Heavy lifting in industries such as oil, gas, construction
Marine industry for lifting boats
| Width | Description |
| --- | --- |
| 25mm | Violet (plain) 4500kgs |
| 30mm | Violet (1BI) 4500kgs |
| 50mm | Green or Violet (plain) 9,000kgs |
| 60mm | Green (2BI) 9,000kgs |
| 75mm | Yellow (Plain) 13,500kgs |
| 90mm | Yellow (3BI) 13,500kgs |
| 100mm | Grey (plain) 18,500 kgs |
| 120mm | Grey (4BI) 18,500 kgs |
| 125mm | Red (plain) 22,500kgs |
| 149mm | Red (5BI) 22,500 kgs |
| 150mm | Brown (plain) 30,000kgs |
| 180mm | Brown (6BI) 30,000kgs |
| 200mm | Blue (plain) 40,000 kgs |
| 240mm | Blue (8BI) 40,000 kgs |
| 250mm | Orange (plain) 45,000kgs |
| 299mm | Orange (10BI) 45,000 kgs |
| 300mm | Orange (Plain) 54,000 kgs |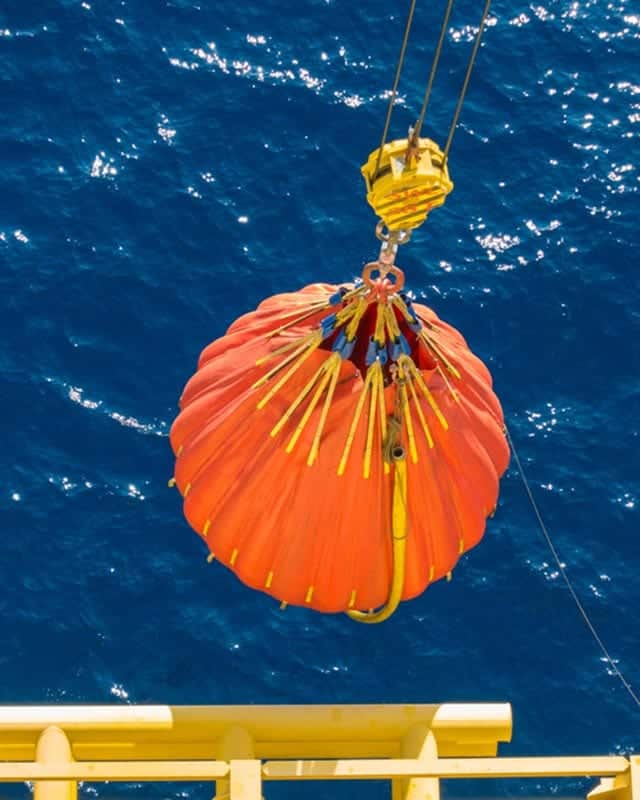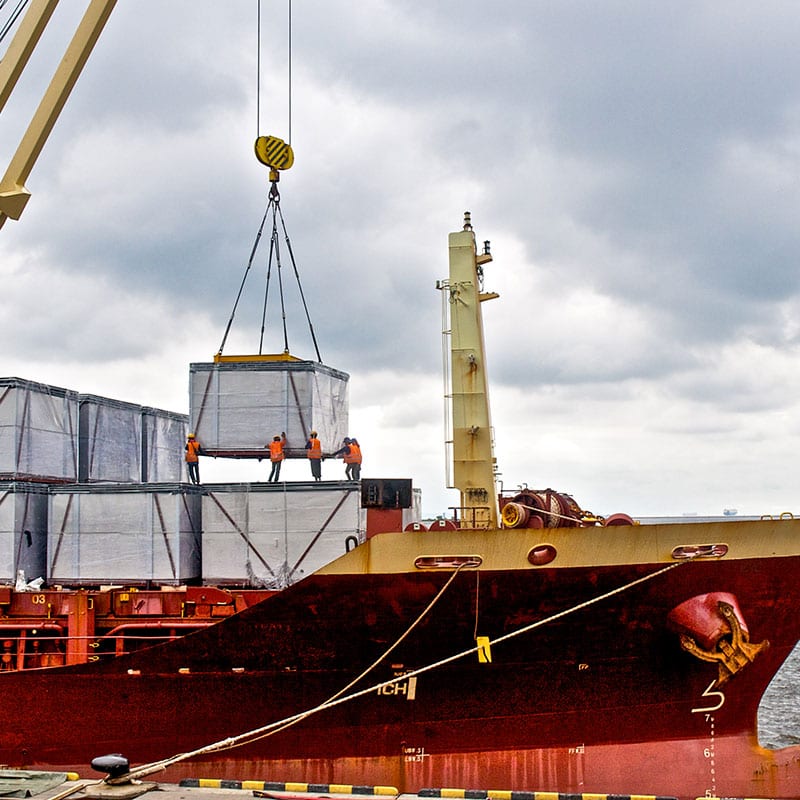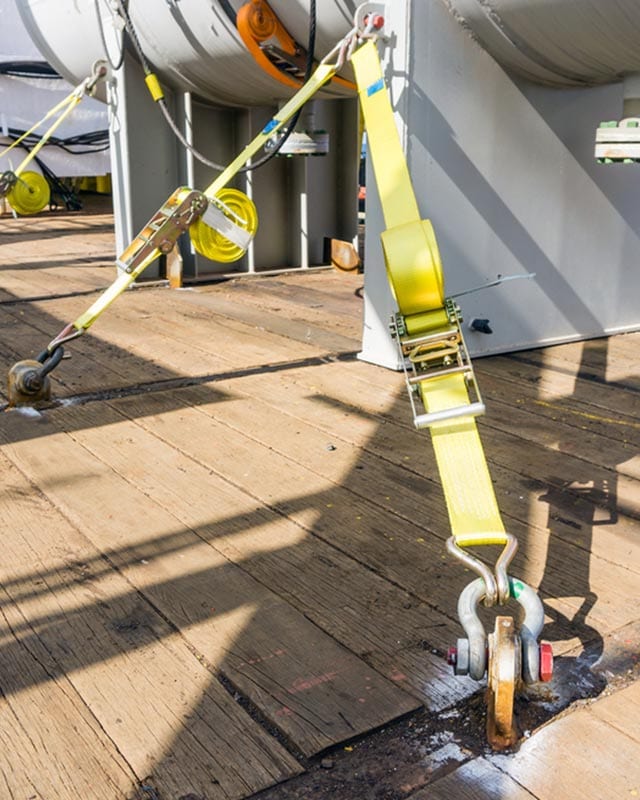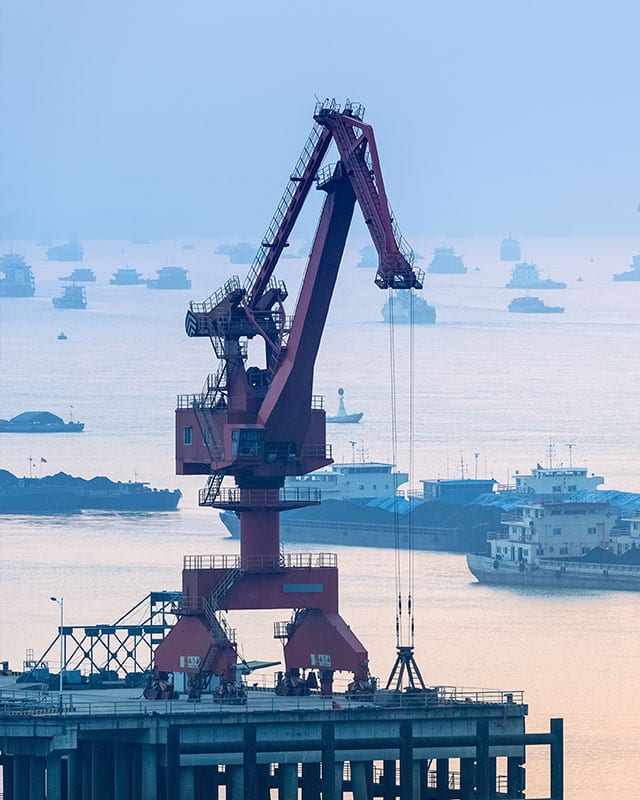 Ribbons sling webbing is available pigment dyed or in loom state.
Specialised coatings are available for all our sling webbing, including;
Fire-resistant (FR)
Water repellent
Antibacterial
Anti-mold/mildew
Anti-abrasion
We can also manufacture technical fibres such as Ultra-High Molecular Weight Polyethylene (UHMWPE) often manufactured under the brand name Dyneema® and aramid fibres, often manufactured under the brand name Kevlar®.  These technical yarns offer exceptionally high breaking strengths whilst being soft and lightweight, which can be of particular benefit in lifting applications.  See our technical yarns section for more information.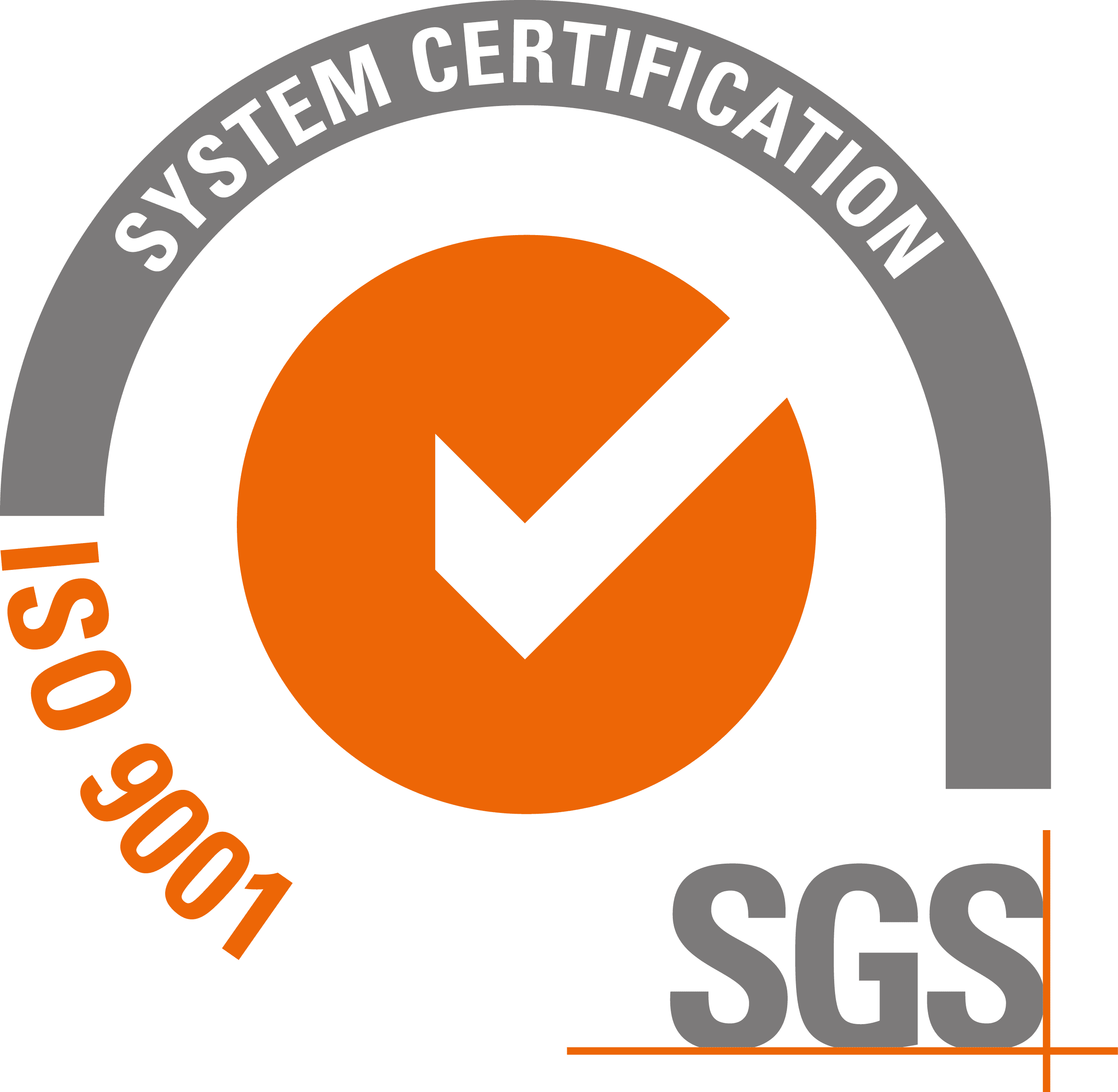 Safety is of paramount importance; all of our flat and round sling webbing is tried and tested to the highest of standards and is manufactured to Duplex webbing's safety ratio of 7:1.  We can also manufacture made to order sling webbing with a safety ratio of 8:1 in both nylon and polyester.
Our sling webbing is colour coded for breaking strength as per international requirements. Our webbings are expertly designed to ensure that the stitch pattern on made up products is effective and efficient, with minimal strength loss after sewing.  We offer British standard width plain colours and European standard colours inclusive of black strength identification lines (i-dents) to assist in the identification of safe sling working loads. Ribbons are fully certified to ISO 9001, offering full quality assurance.
Contact a member of our team to discuss your specific requirements.
Can't see what you're looking for?  Our research and development team work closely with customers on product innovation.  Call a member of our team to discuss your requirements.
Address
Ribbons Ltd, Treorchy Ind Estate, Treorchy, CF42 6EJ,
United Kingdom
Call Us
Tel: +44 (0) 1443 432 473
Fax: +44 (0) 1443 437 413